Embrace the tropical and exotic flavors of a Mai Tai mocktail, a non-alcoholic version of the classic Polynesian cocktail that combines the tastes of pineapple, orange, and almond. Ideal for a beachside gathering or a festive luau, this vibrant drink is sure to transport you to a sun-soaked paradise. This recipe is designed for one 8-ounce individual serving but can easily be adjusted to accommodate a larger number of drinks for your guests.
In a cocktail shaker filled with ice, combine 2 ounces of pineapple juice, 2 ounces of orange juice, 1 oz lemon juice, .5 oz lime juice, and 1/2 ounce of orgeat syrup (almond-flavored syrup). Shake well to blend the ingredients. Strain the mixture into a highball glass filled with ice and add the Mocktail Creator Liquid THC individually to each drink, customizing the dosage based on each person's needs and tolerance. Stir gently to incorporate the liquid THC. Garnish with a pineapple wedge, a cherry, and an umbrella, and serve.
Savor the lively and enticing taste of a Mai Tai mocktail, a delightful and stimulating beverage that will make any occasion feel like a tropical escape. The combination of sweet pineapple, tangy orange, and rich almond flavors will leave you feeling blissful and satisfied, making it a perfect choice for both casual gatherings and festive celebrations.
Buy Cannabis
Mocktail Creator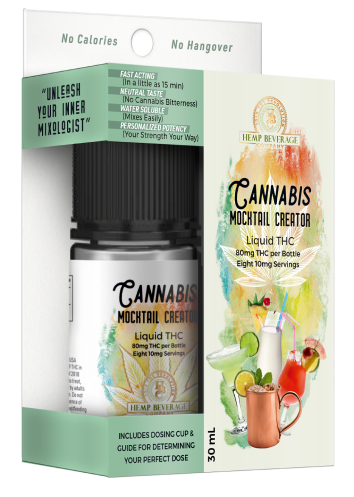 Buy Cannabis
Mocktail Creator