Immerse yourself in the refreshing and invigorating taste of a Mojito mocktail, a non-alcoholic version of the classic Cuban cocktail that combines the flavors of lime, mint, and sparkling water. Perfect for a warm summer day or a relaxing evening, this revitalizing drink is sure to impress. This recipe is designed for one 8-ounce individual serving but can easily be adjusted to accommodate a larger number of drinks for your guests.
In a highball glass, muddle 8-10 fresh mint leaves and 1/2 ounce of simple syrup to release the mint's aroma and flavor. Add 1/2 ounce of fresh lime juice and stir to combine. Fill the glass with ice and top with sparkling water, leaving some space for the Mocktail Creator Liquid THC. Add the liquid THC individually to each drink, customizing the dosage based on each person's needs and tolerance. Stir gently to incorporate the liquid THC. Garnish with a sprig of fresh mint and a lime wheel, and serve.
Relish the vibrant and invigorating taste of a Mojito mocktail, a delightful and refreshing beverage that will make any occasion feel sophisticated. The combination of tangy lime, fragrant mint, and effervescent sparkling water will leave you feeling energized and content, making it a perfect choice for both intimate gatherings and stylish events.
Buy Cannabis
Mocktail Creator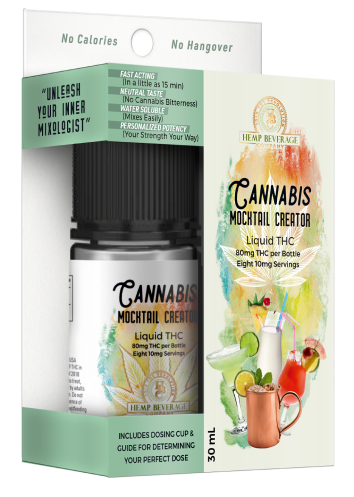 Buy Cannabis
Mocktail Creator